This example shows how to set up QuickBooks and FormCalc for the task described above. If you need more basic information about the setup steps, please see the FormCalc Tutorial.
Overview
When you select an Item on a QuickBooks form, QuickBooks can display any Custom Field information you have associated with the Item. If you set up an Weight Custom Field for your Items and enter each Item's shipping weight there, QuickBooks can display an Item weight on each line of your QuickBooks forms.
FormCalc can multiply values from the Weight column by values from the Quantity column, to calculate the values in a third column we will call Extd Weight (extended weight). FormCalc can also provide subtotals and totals for the Extd Weight column.
QuickBooks Setup
Set up a Weight Custom Field in the QuickBooks Items list, and enter a weight for each Item: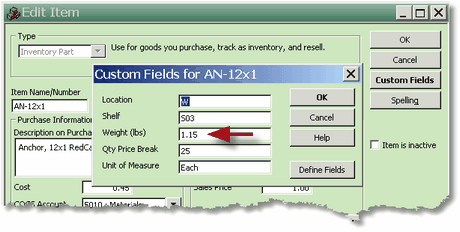 Add two Items to the Items list to use as FormCalc triggers. Add both as Service-type Items, and name them SubtotWt and TotalWt. (Note: The FormCalc Item Postings account assigned to Items in this example is an Equity account and is discussed in the FormCalc Tutorial.)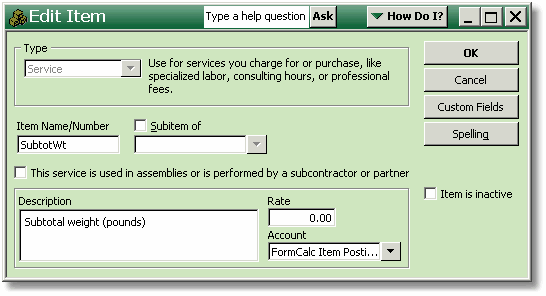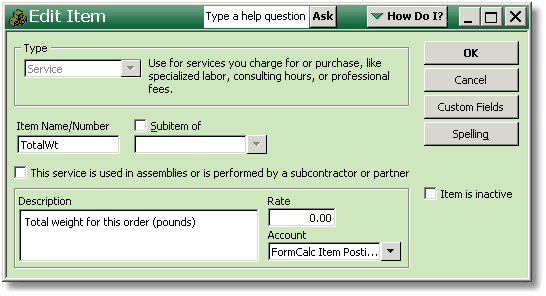 Edit the template of the form on which you want weight calculations. On the Columns tab, include the Weight Custom Field. Also include the Other 1 field, and rename it Extd Weight: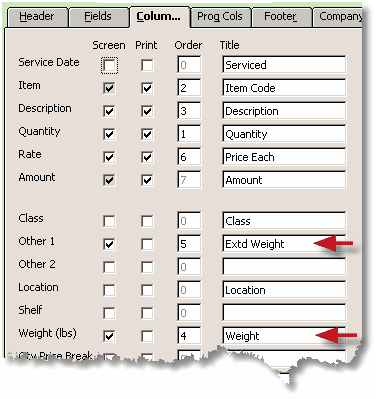 Here's how the resulting QuickBooks invoice columns might look. Note that Quantity is column 1, Weight is column 4, and Extd Weight is column 5.

FormCalc Setup
Enter the two QuickBooks trigger Items on the Trigger Items tab.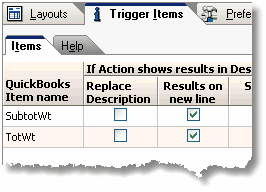 Choose a Layout tab to use, then add an Action to calculate the Extd Weight column. Here's how the Edit Action window might look, given the QuickBooks form column headings shown above.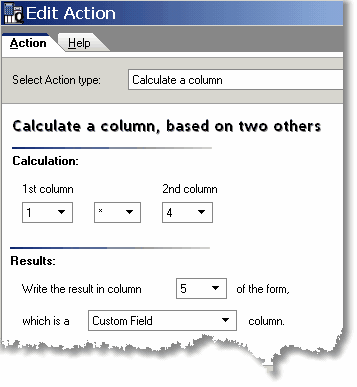 Add another Action to total the Extd Weight column. Here's how the Edit Action window would be configured for the QuickBooks form layout shown earlier.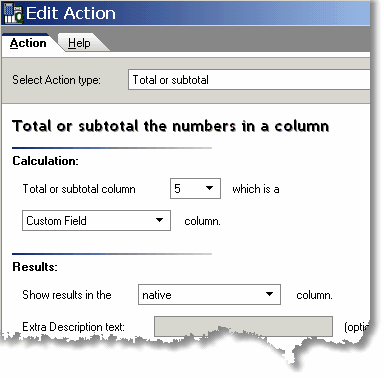 Associate the two trigger Items with the Action which totals the Extd Weight column.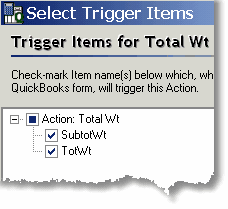 When you're done, the Layout's tab might look something like this: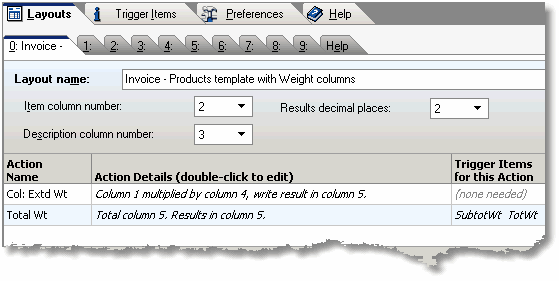 Processing the QuickBooks Form
If the QuickBooks form is filled out like this before you invoke FormCalc: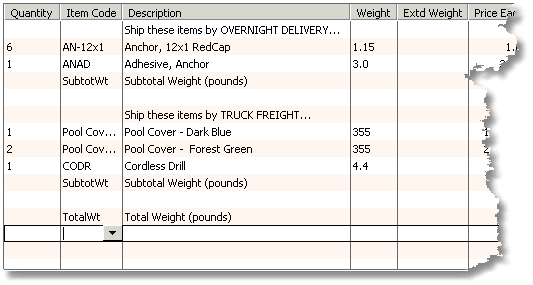 it should look like this when FormCalc is finished processing the form (red was added to this screen shot for emphasis):