Overview

---
ManagePLUS is a management- and quantity-information and reporting add-on for QuickBooks users. It helps you get more and better management information from the QuickBooks records you already keep. ManagePLUS does not have a bunch of fussy accounting requirements; it's very flexible and forgiving for however you keep records in QuickBooks.
ManagePLUS Gold has the same base features but also adds cost accounting support: it lets you allocate income and expense among cost center and profit center classes, using a simple drag-and-drop interface.
"Classes are king" in ManagePLUS! Helping you get valuable management information from using QuickBooks classes is the main focus of ManagePLUS and ManagePLUS Gold. You won't find more advanced, yet simple-to-use, add-ons anywhere, for helping you get the most from QuickBooks classes.
If you use classes in your
QuickBooks transactions
you need ManagePLUS!
Where we mention "ManagePLUS" on these pages, we are referring to features common to both products. But where we mention "ManagePLUS Gold" we are referring to features found only in ManagePLUS Gold.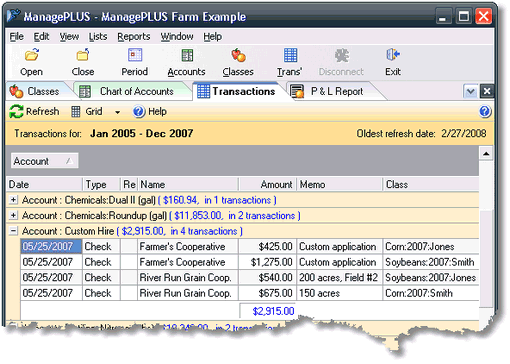 How you'll use ManagePLUS: the basic steps
Choose an accounting period to work with. It can be any date range you want, but usually a month, quarter, or year. This is important because some of the information you'll enter gets "attached to" (automatically stored with) that accounting period.
Tell ManagePLUS to "refresh" its copy of accounts, classes, and transactions, if you've changed anything in QuickBooks since your most recent refresh.
Attach extra information to accounts and classes. Chief among these are management quantities--physical quantities you want to associate with an account or class (like tons of production, acres, or labor hours) so that ManagePLUS can give you per-unit revenue and cost information on reports (per ton, per acre, per labor hour), automatically.
Set up formulas for allocating income and expense among classes you've identified as cost centers and profit centers. Your formulas can be re-used in successive accounting periods, until you decide to change them. [ManagePLUS Gold]
Optional: Send allocation transactions to QuickBooks with a single mouse click, where you may use them just like any other QuickBooks transactions, for reports, etc. [ManagePLUS Gold]
Get reports. ManagePLUS gives you a wide variety of specialized reports with automatic per-unit statistics, allocation details, and more...

---
What can ManagePLUS give me?
The next several pages answer this question by giving you a tour of ManagePLUS and ManagePLUS Gold features and capabilities. Here are links to the tour topics, by page.

Better Quantity Information!
Real Cost Accounting, Real Easy
Advanced Quantity Handling
Big Benefits from "Little Things"