Better
Quantity Information

---
Enter some "extra" data just once, and from then on ManagePLUS can use it to automatically give you enhanced quantity information and per-unit statistics on reports.

---
Management quantities attached to your accounts and classes
ManagePLUS displays its copy of your QuickBooks accounts, classes, and transactions in tabbed windows that have extra columns, where you can enter information to associate with individual accounts and classes.
The most important extra information you can add is something we call management quantities--physical quantities you want to use as a basis for per-unit information on reports. If you want to see each income and expense total on a per pallet of product basis, or per bushel of soybeans produced, or per labor hour, or per tenant month (in an apartment complex), then you'll enter the total number of pallets, or bushels of soybeans, or labor hours, or tenant months, and ManagePLUS will give you per-unit information on reports.
Here's the Classes tab in ManagePLUS, showing classes for individual trucks in an example trucking company. Mileage has been entered for each truck--the miles driven during the accounting period--to serve as management quantities for reports on the truck classes: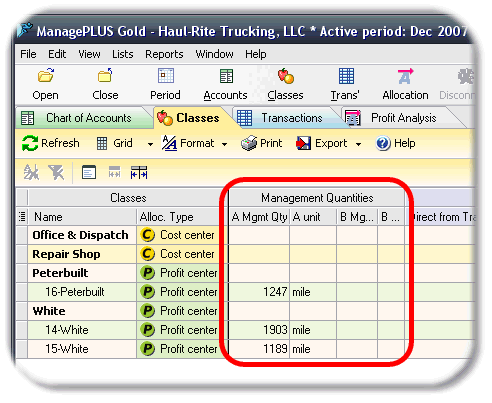 With management quantities like these, ManagePLUS can automatically show per-mile income and expense statistics for each income and expense category for each truck, on reports. (See report examples in the next item, below)
There are two management quantity columns (A Mgmt Qty and B Mgmt Qty), and you can use both if you want two sets of per-unit information on reports--maybe you want to see expenses both per pallet of production and per labor hour, or per bushel of soybeans produced and per acre of soybeans grown.
What else? In ManagePLUS Gold, formulas for allocating income and expense to cost centers and profit centers can be based on the management quantities you've entered (more on this later in the tour).
Management Quantities: the Most Valuable Feature?
Demonstrates using management quantities to get per-unit details on reports, and as a basis for allocating income and expense. (Haul-Rite Trucking Company example).
---
Automatic per-unit income and expense statistics
If you've entered management quantities for any accounts or classes as described above, you'll automatically get per-unit statistics based on them, on reports. Here's a report fragment showing dollar-per-mile revenue and costs for the 16-Peterbuilt class. (Don't fret if the numbers appear less than realistic; remember, this is from a very simple QuickBooks example file.)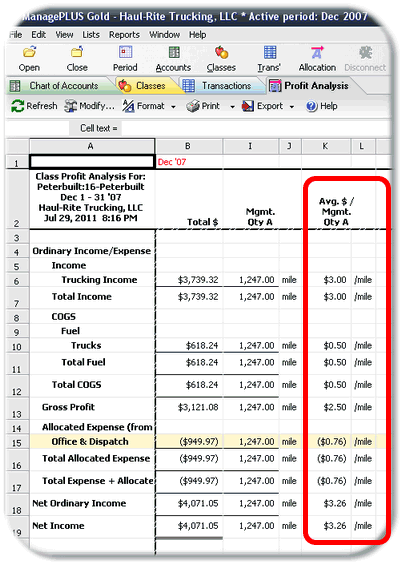 ---
Automatic quantity totals and statistics
You can also attach units of measure to accounts (but not classes). If you do this for any of your accounts (it's optional), ManagePLUS will automatically show quantity totals and related statistics for those accounts on reports.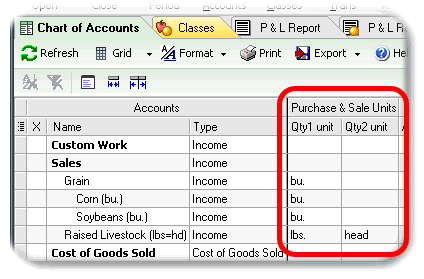 Here's a fragment from a ManagePLUS Profit & Loss with Classes report, which shows the kinds of quantity information ManagePLUS provides automatically. It's for a farm business' income account called Raised Livestock, and the yellow band is a class-by-class breakdown of sales for that account, with detail lines for two different classes of cattle, Hfrs (heifers) and Strs (steers).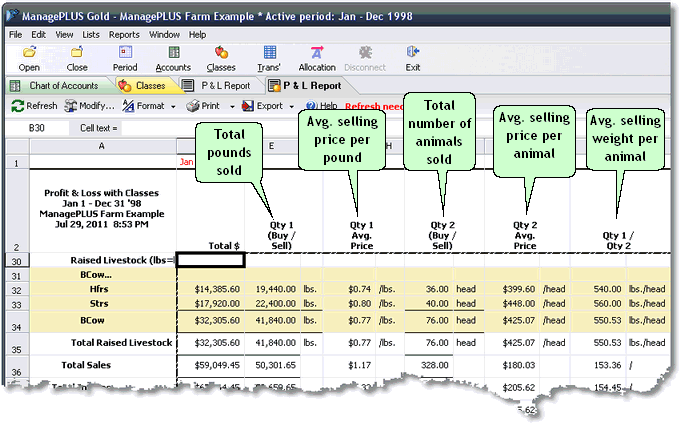 Note: Transaction data for this example included dual quantities, which means both the weight and number of animals sold were recorded in the QuickBooks transactions from which this report was generated. With single quantities, less report information would have been produced. The ability to record two quantities in transactions is a ManagePLUS exclusive and is described later in the tour.
Currently ManagePLUS can only provide this kind of quantity detail for accounts, not items (from the QuickBooks Items list). And obviously, this feature should only be applied to accounts that represent things bought or sold in a specific unit of measure (pounds, gallons, tons, bushels, etc.), not for an account like Office Supplies where a quantity total would be meaningless.