Real Cost Accounting,
Real Easy
(ManagePLUS Gold)

---
ManagePLUS Gold is the "bigger, stronger brother" of ManagePLUS. It gives you easy-to-use cost accounting features with extensive support for activity-based costing. It lets you identify classes as cost centers and profit centers, and use simple drag-and-drop for allocating income and expense among them.
---
A way to identify classes as cost centers or profit centers
Identifying QuickBooks classes as cost centers or profit centers is easy; you just select the desired type for each class from a drop-down list on the Classes tab in ManagePLUS Gold: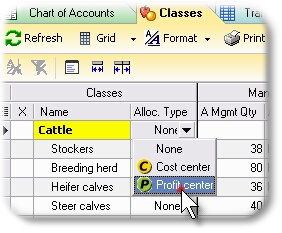 This benefits you in several ways. It:
Reminds you of your intended purpose for each class.
Turns on color coding for those classes in windows and on reports.
Turns on internal "rules" in ManagePLUS that prevent making many kinds of errors, such as accidentally allocating from a profit center to a cost center.
---
Easy, drag-and-drop cost allocation
Allocating income and expense in ManagePLUS Gold involves setting up simple formulas for deciding "what gets allocated to what".
To set up a formula you just drag an allocation token with the mouse, onto the desired cost center or profit center class (in a pop-up allocation window). This shows dragging the [%] token, to allocate a percentage of an expense to a profit center: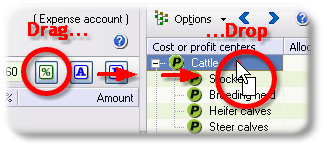 Dropping the token onto a class in the tree adds the new allocation formula, where you can type in the percentage to allocate. When you type a percentage (the red arrow on the left), it shows up in the class tree (the red arrow on the right):

Here's the allocation window after adding another allocation row this same way: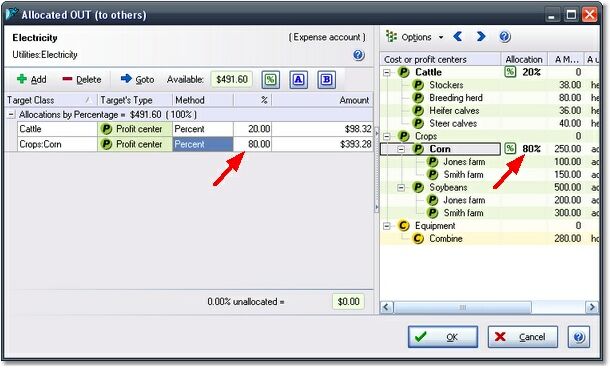 .

---
A way to assign income and expense to classes...with no extra QuickBooks transactions and no Journal entries!
With QuickBooks alone, there are only two ways to assign income or expense to classes. You either (1) assign a class when entering the original transaction, or (2) wait until the end of the account period and make Journal entries to "transfer" income and/or expense to classes.
Let's use Utilities:Water expense as an example for discussing this...
Approach (1) is easy enough, but you have to remember to do it on every Water transaction, all year long. And if you're splitting Water expense among several classes you have to figure out the exact dollar amount to assign to each class line on the Bill or Check, and you must do that every time you enter a transaction for Water expense.
For approach (2) you need to be comfortable with the idea of debits and credits. Then, you need a Profit and Loss report for the accounting period to have a total for Water expense, so you'll know the amount to transfer to the various classes. Next, you'll have to figure out what dollar amount to assign to each class, and make the Journal entry...being sure you've gotten the debits and credits in the correct places. Oh, and what if you later fix an accounting error that changes the period's Water expense total? You'll have to go through these steps all over again, to correct the amounts in your Journal entry.
Instead of all this, what if you could just set up a formula that would:
allocate Water expense to classes in the desired percentages,
do it for the entire accounting period,
not require any understanding of debits and credits
automatically update the allocated amounts if the Water expense total changed,
work the same way in later accounting periods (until you decided to change it)
be created mostly by drag-and-drop with a mouse?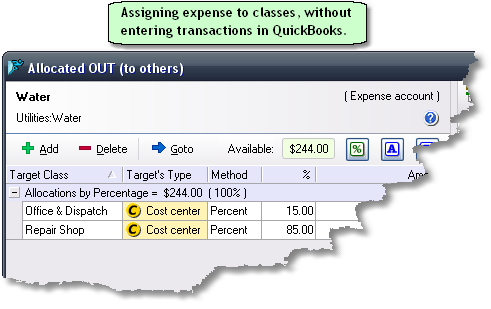 That's what ManagePLUS Gold gives you! You really need to see this to understand it, so please have a look at the following video. It includes several allocation-related topics, but shows allocation from Utilities:Water expense to a couple classes in the first half of the video.
Drag-and-Drop Allocation to Profit Centers and Cost Centers (ManagePLUS Gold)
Demonstrates assigning income and expense from an expense accounts to cost centers and profit centers, and allocating amounts from a cost center to a profit center based on management quantities. (Haul-Rite Trucking Company example).
One more thing: this approach accomplishes the same result as assigning classes directly in QuickBooks transactions, in terms of end-of-period reports. So it lets you greatly simplify and reduce the effort required for entering many kinds of QuickBooks transaction. (Just enter Water expense, then let ManagePLUS Gold split it among classes for you at year's end.)

---
A way to allocate revenue and costs among cost centers and profit centers
A central concept of cost accounting is to identify separate parts of the business, and to see how each part contributes to other parts.
Some parts of the business aren't operated for the purpose of generating a profit; but rather, to provide services to the other, profit-generating, parts of the business. These parts of the business--which are mostly responsible for costs, and little or no income--are typically called cost centers. The parts that are operated to generate a profit by producing a salable output of goods and/or services are called profit centers.
For example, a trucking company might have individual truck as its main profit centers, but other parts like Office & Dispatch, and Repair Shop as cost centers. Those cost centers don't earn any revenue--they just provide services to the trucks--but they are responsible for costs like electricity, water, wages, office supplies, shop supplies, and so on.
Part of evaluating profitability of the various profit centers, involves allocating reasonable portions of the cost centers' accumulated costs to them, so that each profit center gets charged with the full costs associated with the revenue it earns. ManagePLUS Gold makes it drag-and-drop-easy to do that: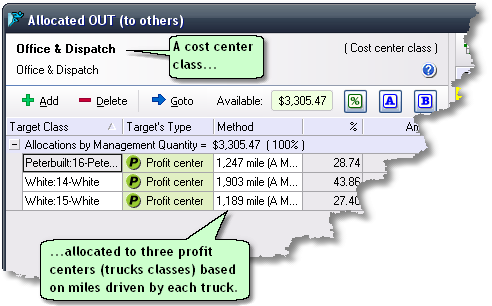 For a video version of this screen shot, watch the following video. It's the same video as the one above, so there's no need to watch it again if you've already seen it. But if you want to see allocation of a cost center to profit centers, skip ahead to the second half of the video.
Drag-and-Drop Allocation to Profit Centers and Cost Centers (ManagePLUS Gold)
Demonstrates assigning income and expense from an expense accounts to cost centers and profit centers, and allocating amounts from a cost center to a profit center based on management quantities. (Haul-Rite Trucking Company example).
If you have experience with expense allocation you may be wondering, "But does ManagePLUS Gold cascade allocations to other (dependent) classes, as it should?" In other words, you want to know that if class A allocates to class B, B to C, and C to D, then has A's allocation contributed to the total amount in D?
The answer is yes! Have a look at the following video if you want to see how allocations flow through the chart of accounts and classes list.
How to Trace a Chain of Allocations
Demonstrates how to trace an allocation formula across multiple accounts and classes, to its destination class(es). (Haul-Rite Trucking Company example).
---
Allocation based on percentages or management quantities (cost drivers)
If you've seen the videos above you may already know about this; but if not, we wanted to be sure you were aware of this feature...
In addition to being able to allocate by percentages, ManagePLUS Gold lets you allocate based on the management quantities you have assigned to the target classes of an allocation.
Cost driver is a more standard accounting term for physical or dollar amounts associated with classes, on which cost allocations are based. They're called management quantities in ManagePLUS Gold because they are used for several purposes--not just cost allocation.
Here's a brief example.
A farmer has an Equipment:Combine class representing costs associated with owning and operating his combine, a machine he uses for harvesting his corn and soybean crops. He wants to allocate the combine's costs to the Corn and Soybean classes, proportional to the acreage of each crop grown.
He of course could allocate a percentage of the combine's costs to each crop. But next year when he grows a different acreage of the crops, he'd have to edit the allocation formula, adjusting the percentages allocated to each crop.
A better approach is to allocate based directly on the crops' acreages, assuming they have been entered as management quantities for the crop classes (in the Classes tab of ManagePLUS). To do that, he opens the allocation dialog and drags either the [A] or [B] token onto the desired classes.
The [A] token adds an allocation based on the classes' "A" management quantity, and the [B] token adds one based on the "B" (second) management quantity. The following screen shot shows dragging the [A] token onto the Corn and Soybeans classes. We've circled the classes' "A" management quantities in blue, to highlight the fact that they'll be the basis for the allocation.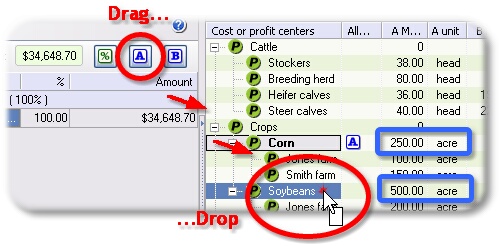 Here's a full view of the allocation dialog after both allocation lines are in place. The red arrow points to percentages of the Equipment:Combine class that will be allocated to each crop. These percentages were calculated automatically based on each crop's acreage as a portion of the total acreage for both crops. The green arrow shows the dollar amount that will be allocated to the two crop classes.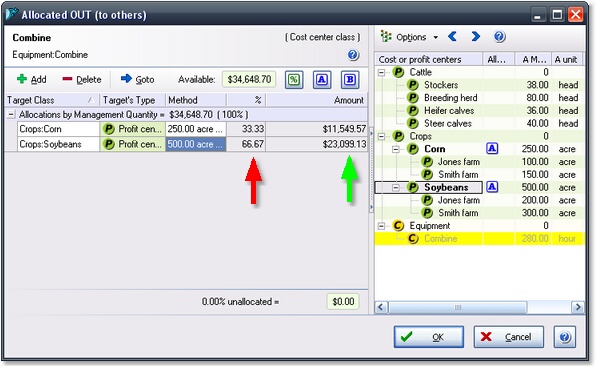 The most important point is this: if the crops' acreages are changed in the Management Quantities column of the Classes tab, then these percentages will automatically change as well!
That's what makes this allocation method so useful: you only need to change a single management quantity, in one place (the Classes tab), to update all of the (possibly dozens of) allocations based on it.

---
Profit Analysis reports for profit centers and cost centers
After doing the work of setting up allocations for incomes and expenses, you will of course want to see how they contribute to profits in your various profit centers. That's what the Profit Analysis report is for. Think of it as a "profit and loss, with allocations" report for a single class or branch of the class tree.
Here's a Profit Analysis report for the 16-Peterbuilt (truck) class, of the Haul-Rite Trucking Company.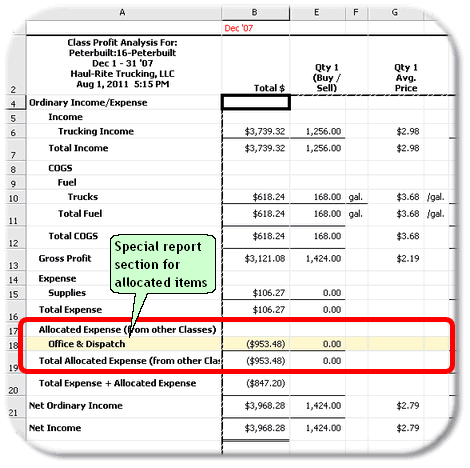 This is a very simple example, but it illustrates the main thing to know: following the usual profit and loss report sections there's an Allocated Expense section. That is where you will find lines for amounts allocated to this class.
In this simple example there's just one allocation line, from the Office & Dispatch class. Since Office & Dispatch is a cost center, it is displayed with a yellow background. If there had been any allocations from profit centers (which can happen in specific circumstances), they would have appeared with a green background.
---
Send allocation transactions to QuickBooks, with a single mouse click!
OK, so you can get reports like the one above in ManagePLUS Gold. But what about using the allocation transactions it builds, in QuickBooks? A single click on the main toolbar is all it takes, to send allocation transactions to QuickBooks:

ManagePLUS Gold automatically adds accounts, as needed, to the QuickBooks Chart of Accounts, then sends the allocation transactions for the current accounting period. And Once they're there in QuickBooks you can use them for any purpose you want--such as in QuickBooks' Profit and Loss by Class report, among others.
The allocation transactions won't ever hurt anything in QuickBooks--you can leave them there permanently if you like. But if for any reason you want to delete them, that also takes just a click, as shown in the above illustration.
---
But why would I use ManagePLUS Gold? ...my trusty old Excel spreadsheet still works!
Sure it "still works". But how much time do you spend using it every accounting period, to allocate expenses to cost center and profit center classes? And how much time do you spend on updating and tweaking it whenever you add a new account to your Chart of Accounts? Or when you change a class name or the rearrange the Classes list?
ManagePLUS Gold lets you...

throw away your allocation spreadsheet
end the frustration of clunky and tedious manual procedures for calculating, preparing, and entering allocations in QuickBooks
stop making manual Journal Entries to do allocations
never export/import allocation transactions again!
ManagePLUS Gold saves you...
Hours of time whenever you prepare allocations. Once you have an allocation plan set up, preparing allocations for any accounting period period is almost completely automated. You'll literally spend just minutes, not hours.
Hours of time whenever you need to change how income and expenses get allocated. When you add or delete accounts or classes or want to modify the percentages or management quantities on which allocations are based, changes are drag-and-drop easy. They're also more "bullet proof" than spreadsheet adjustments can ever be: ManagePLUS Gold prevents many kinds of errors by showing prospective allocation amounts while you are adding/editing allocation setups.
The time and tedium of making manual Journal Entries to accomplish allocations. In ManagePLUS Gold, a single mouse click causes allocation Journal Entries for the entire accounting period to be created and sent to QuickBooks.

Hours of time correcting mistakes. ManagePLUS Gold lets you see exactly how dollar amounts will be allocated before you send allocation transactions to QuickBooks.

But what if you see a problem after you've sent allocations to QuickBooks? For instance, maybe you realize you failed to allocate a portion of expenses to a newly-added class. What to do? Just change the allocation setup in ManagePLUS Gold, then click the Send Transactions to QuickBooks button again. That's it. The entries you sent earlier are erased and replaced with new ones, automatically. And allocation entries in other accounting periods remain intact and undisturbed.

Hours of time, by making complex allocation plans simple to implement. How complex? Have a look at the following example.
Case study: Expense allocation in a law firm
One of our customers needed to allocate a law firm's overhead expenses among profit center classes representing each of the firm's partners, based on each partner's portion of the firm's total fee income for the month. But further, they also wanted to allocate each partner's expense totals among subclasses of every partner class--representing the partner's practice areas (Torts, Real Estate, Workman's Compensation, etc.).
The firm's bookkeeper had been using a large, complicated Excel spreadsheet to accomplish this job monthly. But it required a major effort:
In the spreadsheet, manually enter the month's totals for each expense account to be allocated, plus fee income amounts for each partner class and subclass.

In QuickBooks, manually create Journal Entries to accomplish the allocations by copying or re-typing dollar amounts calculated by the spreadsheet.
This time consuming procedure, with it's significant potential for typing and other errors, was boiled down to allocation setups in ManagePLUS Gold which only take minutes to use, with three main steps:
Click a button
to refresh (import) income and expense amounts for the month from QuickBooks.

Manually enter the month's fee income
for each partner subclass in ManagePLUS Gold.

Click another button
to send the month's allocation Journal Entries to QuickBooks.