Big Benefits
from "Little Things"

---

ManagePLUS has a lot of "little" features that add significant flexibility and capabilities to how you use the software.

---
Play "what if" right there in live reports
ManagePLUS reports are generated in ManagePLUS' own internal spreadsheet, and non-formula cells are highlighted in a different color to let you know they are editable.
This means you can do all the "what-if" analysis you want, right there in the report: change input costs, change dollar amounts or salesquantities, change management quantities, etc. and see how those changes would affect the report's results.

---
Export reports to Microsoft Excel
For wide-open report flexibility and to support transfer of ManagePLUS report data into other programs, all ManagePLUS report spreadsheets can be exported in Microsoft Excel 97 file format.

.

---
Export transactions and QuickBooks lists to other formats
ManagePLUS can export any of the QuickBooks lists it works with (Accounts, Classes, etc.), as well as transactions for the currently-selected accounting period, in any of several formats.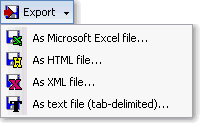 ---
Arrange transactions any way you want, for viewing
The Transactions tab in ManagePLUS has powerful features for sorting, filtering, and grouping transactions any way you want. Just click column headings and buttons, or drag column headings into the grouping panel at the top of the window, to create groups.
In addition, quantities and dollar amounts are automatically subtotaled and totaled for groups.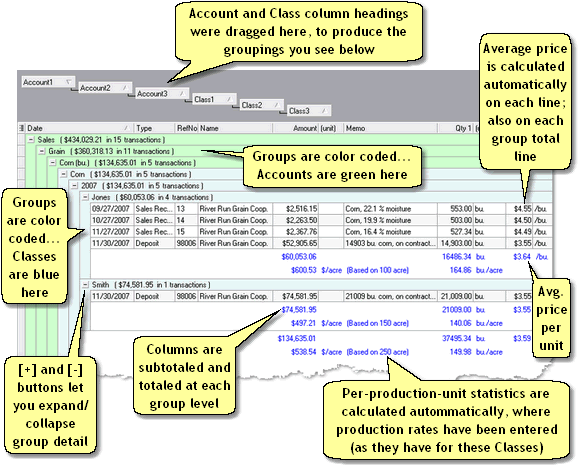 Here are some related videos, if you want to learn more.
"Playing" with Transactions...Visually!:
The Basics
Using only mouse clicks and drags, you can sort, filter, group, and arrange transactions to get useful information summaries in the Transactions tab, in seconds!

"Playing" with Transactions...Visually!: Grouping Transactions for Quick Management Information
Grouping transactions by Account and by Class gives you a fast, flexible way to get useful information from your transactions.
---
"Break out" of the same old QuickBooks list levels
A side benefit of ManagePLUS's transaction grouping ability, is that it lets you change the order of the levels in your QuickBooks lists, for even more flexibility in gleaning information from your transactions. Here's data in the Transactions tab, grouped by class levels in their standard order (Class1...Class5):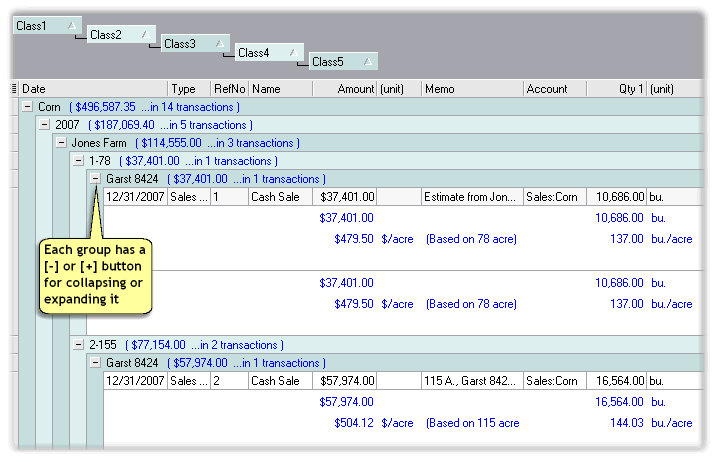 To change how class levels are arranged, you can drag any of the class column headings (in the grouping panel at the top of the window), to a new position. This shows the Class3 (3rd) level being dragged to become the top (1st) level.

And here are the same transactions, rearranged in this new grouping. The Class3 level is now at the top, providing different groupings and a very different view of the transactions.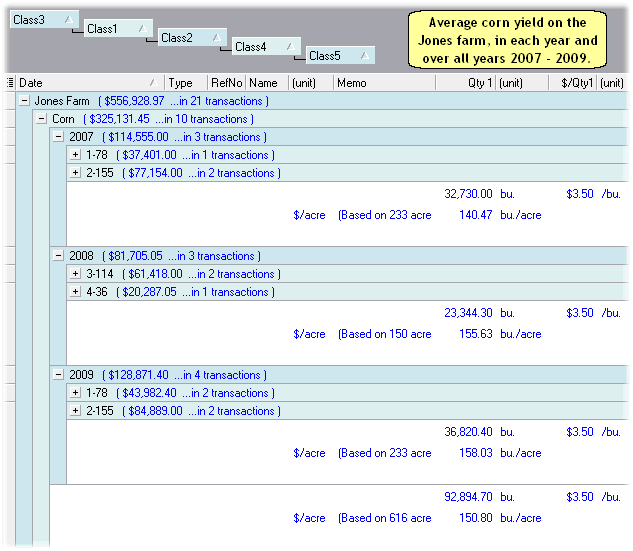 By the way, ManagePLUS also can print out your transaction data, in whatever fashion you currently have it grouped.